Liquidation
In the world of business there can be sudden collapses or else painful decisions. Sometimes business are winded up due to legal requirements or unfortunate bankruptcy situation. These circumstances bring management many challenges. A closure of a business should be done in a formal and legal methodological way.
Liquidation is fundamentally closing a company or business, or winding up a company or business. In that all forms, the final stage of the process is to dissolve a company or business. The process is slightly different in each business mode such as Companies, Partnerships, and Proprietorships etc.
Liquidation of a business can be done by disposing of its assets and convert into cash. It can be addressed as winding up a business in addition. The winding up process have series of steps running through a long time frame. Basic functions are converting remaining assets owned by company or business in to cash and settlement of all the liabilities, excess will be delivered among shareholders based on their shareholding.  Company liquidation in Sri Lanka can be very complicated and lengthy, If not this handled properly by an experienced agency with legal and tax expertise. Ranwatta & Co. is here to help you for company liquidation process smoothly within a short period of time.
In Sri Lanka majorly there are 3 types of business and each business can have different reasons to be wind up and liquidate as per the legal or agreements requirements.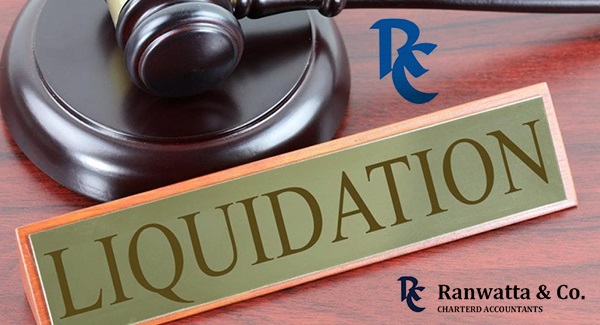 Close down or Liquidating Proprietorships in Sri Lanka
All of the proprietorships are interrupted due to activities of the proprietor. In such occasion the winding up process has to be done in a formal way.
On the cessation of the business operation or on the death of the proprietor of a business, notification of it must be made to the registering authority in the prescribed form within 3 months of cessation or death of the proprietor. The notice should be accompanied by the original certificate of registration of the business or if the original certificate is lost or misplaced, a certified copy of same together with an affidavit sworn by the proprietor in the case of cessation of business and by a personal representative of the proprietor in the case of death. The affidavit must testify that the original is lost or misplaced and that the certified copy is field in lieu of such original.
Close down or Liquidating Partnerships in Sri Lanka
Partnerships should be carried out with an agreement. In time of operation of the business, partners face different challenges.
The existence of the partnership comes to end on the following grounds:
expiration of the fixed term,
termination of a single adventure or undertaking for which the partnership was entered into, subject to any agreement between the partners,
notice by one partner of intention to dissolve the partnership where the partnership was entered into for an undefined time,
bankruptcy or death of a partner,
carrying unlawful business,
dissolution by the court on one of the following statutory grounds;
When a partner is incapable of managing the firm's affairs due to a mental disorder.
When a partner is permanently incapable of performing his duties
When a partner breaches or breaks partnership agreement
When a partner's conduct is prejudicial (harmful) to carrying on the business.
When the partnership business can be carried out on only at a loss.
If the courts think it is just and equitable to dissolve the partnership.
Even after the dissolution of a partnership the authority of the partners to bind the partnership and the other rights and obligations of the partners continue notwithstanding the dissolution but only so far as necessary to wind up the affairs of the partnership.
If the partnership ceases to carry on business, it must deliver to the Registrar a notice in the prescribed form within 3 months.
Close down or Liquidating Companies in Sri Lanka
Companies in Sri Lanka are regulated by The Companies Act (No 7 of 2007) supervised by large number of authorities. Management of the companies have lot of responsibilities to bear.
There are three different ways to liquidate or close down a company in Sri Lanka:
Compulsory, or
Under supervision of Court, or
Voluntary (either members or creditors)
Winding up by the Courts (Compulsory winding up)
In this occasion, a court orders a company to wind up/close down on following reasons;
The company has by special resolution resolved that the company be wound up,
The company does not commence its business within a year from its incorporation or suspends its business for one year,
The number of members is reduced to, in the case of a private company below two, or in the case of a public company below seven,
The company has no directors,
The company is unable to pay its debts – section 256 sets out the circumstances in which a company will be deemed to be unable to pay its debts,
The Court is of opinion that it is just and equitable that the company should be wound up – if the main object of the company has either been completely achieved or is impossible to achieve or is fraudulent or if the company is only a 'bubble' company or if there is a deadlock of such a nature that no remedy is obtainable etc.
Among others as mentioned above, it generally comes about after a creditor has taken legal action against the business through a winding up petition. This form of liquidation means directors lose control of the process.
Winding up subject to supervision of Court
When a company has passed a resolution for voluntary winding up, the court may order that the voluntary winding up shall continue subject to such supervision of the court.
A voluntary winding up is commence at the time of passing of the resolution for a voluntary winding up. A company may be voluntarily wound up when;
If the articles provide for the dissolving of the company after a specified period or on occurrence of a specified event, and such period has lapsed or such event has occurred and the company has resolved in general meeting to wind up the company,
If the company resolves by a special resolution that the company be wound up voluntarily,
If the company cannot pay its debts and resolves by extra ordinary resolution that the company be wound up.
Voluntary winding up may be in the form of:
Members voluntary winding up and
A creditor's voluntary winding up.
Who we are and why you should select us?
We are Ranwatta & Co. one of the reputed service firm that providing audit, advisory, tax and legal corporate activities.
We are providing liquidation service to any type of business in Sri Lanka suffering from unfortunate insolvency, sudden collapsing or any other requirement with experience and expert knowledge while being in the industry over 30 years. We have experienced team members and they are ready to give expert pieces of long- term management plans, reviewing and mitigating the risks for your business requirements. We provide customized tailor made solutions according to your priorities through a systematic process.
As a reputed and responsible business servicing firm we are aware of what you are expect from us. And we are ready to offer more value than you expect from a business servicing company in Sri Lanka.
Guaranteed confidentiality of your data and information
Transparency of all activities
High level of quality to minimize your reviewing time
Working full independently to avoid conflicts of interests
Tailored solutions for your business.
Well trained, experienced, efficient and friendly team members.
Offer realistic, practical commercial advices irrespective of fees.